On far and distant parts of the internet, I occasionally post some comments to forums and other blogs. One place I try to regularly leave snide comments at is Butercup's blog. A couple of weeks ago she made a post having a go at Lost, and I piped up sort of defending the show. As the show approaches it's season finale this week, I've had a change of heart, and I now think I actually agree with Di.
Over the past couple of days, I've been pondering why it is that I somewhat obsessively watch Lost. It's not particularly well written, the actors are largely average, and I struggle to care about any of the characters on the show (with the possible exception of Charlie, but that's because he's a hobbit). Even with all these marks against the show, I invariably watch it for the mystery aspect. On an intellectual level, I'm interested to see if I can guess what's happening before it is officially revealed. And it's a big puzzle, with clues peppered not only throughout the show, but also in the alternate reality game that's playing out on the internet. Following Lost is a game that a whole bunch of people seem happy to play, people who have a lot more free time than me.
The fatal flaw with this game is that you can't ever win it. The rules are all dictated by the producers of the show. They decide what to show you, which clues to weave into certain frames of the show, and when to end it. In the end you're beholden to the writers and their whims. This might not be a problem if there was a good chance that the true story would be somewhat satisfying to know. However, chances are that the end game in Lost will come through the action of some Deus ex machina, as hinted at by the religious undertone that this latest series has appropriated. They've written themselves into a corner, and I don't know how they're going to get out.
Therefore, after this series, I'm not going to try not to watch it. If the only attraction to the show is solving the puzzle, and you are destined to fail, I don't know how they expect people to keep on playing. This phenomenon isn't isolated, as Lost is just the latest in a string of TV series whose central claim to fame is that they are puzzles (Alias, X-Files etc). In fact, the worst offender is not a TV show, but the books of Dan Brown - in particular, The Da Vinci Code. Littered with puzzles and conundrums, the book/movie/video game provides a lot to think about (in volume only, as the puzzles are offensively simple, yet numerous), but lacks any real meaning. Its only real purpose is to convey the idea that maybe Jesus got married and had some kids. That's it. It then dresses itself up in puzzles, symbolism, metaphor and other high-brow techniques to make itself look smart, when all it's really doing is being obtuse.
That is, I think, my biggest problem with all these things. I have no problem with a good bit of symbolism. It can be used quite nicely when it's being used as a method to explain a complex idea, to get the message across in the best way. This doesn't happen in Da Vinci Code and kin. The books, tv series and films have all stopped saying anything. You throw an idea out there (a meme if you will), and then spend the rest of your time being obtuse and symbolic for the sake of being obtuse. It reminds me a lot of modern politics, where the language of politics (and business to an extent) is losing any meaning at all. There's no need to actually communicate, you just need to give the impression that you are communicating (like Colbert's Truthiness). It just feels dishonest, and I don't want to get that from the books I'm reading, or the shows I'm watching.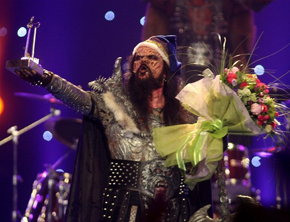 What is honest, is the Eurovision song contest. Technically a song contest held between TV broadcasters in Europe, it holds no pretences of being anything but a cronyistic back-slapping scheme where the actual songs come a distant second to voting against a country that you just simply don't like. Technical merit and singing talent usually don't even get thought about when voting takes place. Everyone knows the Scandinavians are always going to vote for each other, the Balkan countries too, and no-one for the French, Germans and Brits. The whole competition is unabashedly rigged, and as a follower, I appreciate that. They're not fooling anyone when it pretends to be a real competition.
My favourite act from this year was Lordi, from Finland. They took the idea that Wig Wam had last year, and took it to a whole new level. I wasn't really expecting them to win - some sappy love song always wins. When Lordi did actually win, I was pleasantly surprised. It's sort of proof positive that if you can't beat the system, just be sublimely ridiculous. The best moment in the broadcast was when Lordi were on stage celebrating their win, and the demon hell-spawn pseudo-satanist guitarist holds the trophy above his head, with his battle-axe guitar and a beautiful bunch of flowers in the other. That, ladies and gentlemen, is what Eurovision is all about.